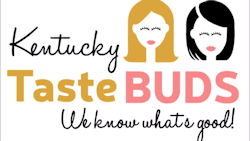 Brunch with the Buds Podcast Archive
---
Get the dish on everything Kentucky every Saturday from 10 am to 2 pm on KISS 96.9!
Leigh & Tam will tell you about their week and what's up this weekend!
She's the Class, I'm the Sass.  We are the Kentucky Taste Buds!
---
Ky Taste Buds Links from the Show
04.04.20       A New Normal
KyCovid19.ky.gov
Ky Covid-19 Hotline: 800-722-5725
A New Way of Working:
Stay at Home:
Build a Permanent Workspace
Get Comfortable Office Furniture
Set Real Work Hours and Discover Your High Productivity Periods
Don't Start Your Workday in Your PJs
Don't Work in the Living Room or in front of a TV
Take Short Breaks
Create a Rewards System
Step Outside
Use Video Chat
Avoid Family, Friends, and Pets
Check-In with Co-Workers Frequently
Buds & Duds:
Buds:
People standing on balconies or in streets and clapping for healthcare workers coming and going from work.
Local companies like Ruggles Sign Company in Harrodsburg now making sneeze guards.
Volunteers sewing face masks including Catherine Holbrook and Christine Moore (milliner) & Birdsong Quilting, Embroidery and Crafts are making them in Georgetown.
Duds:
People who throw their gloves and masks on the ground.
Scammers trying to take advantage of people with fake testing kits.
People threatening Dr. Anthony Fauci, Lead Infectious Disease Expert for President Trump.
A New Way of Eating Out:
KISS 96.9's Restaurant Open Guide
A New Way of Traveling the State:
Kentucky Tourism website with video series about horse farms and distilleries, to cooking with celebrity chefs, mixing cocktails with a twist, and even photographing everything Kentucky has to offer with a world-famous photographer.
One of the video series is called Stoked and it features Adam Glick.  He is the head chef for the hit reality TV series "Below Deck".  He travels the state and has all kinds of different experiences at Mammoth Cave, Woodford Reserve, Shaker Village and of course he cooks along the way.
Most Scenic Drives in Kentucky from MyScenicDrives.com
We have the perfect way to enjoy the beauty of our Kentucky spring without having to leave the comfort of your car.
Bear Hunt Lexington is a Facebook page that posts where Teddy Bears are posted in windows around town.
Other variations are Easter Egg hunts, Rainbow hunts and painting inspirational quotes on windows and in chalk on sidewalks.
First 5 Lexington  Their mission is to create a collaborative community to help families and children from quality prenatal care through early childhood.  They have a list of great resources under their Covid 19 page covering everything from Lexington Public Library Digital reources, to Lexington Legends activity books, to virtual tours of zoos and aquariums to Leigh's favorite, a website called Access Mars.
New Focus on Home and Garden:
Lowe's
Home Depot
Alcohol Sales are Up
LexOnTap.com have partnered with several restaurants and breweries in the area to deliver your favorite food and brews to your doorstep. They will deliver from lots of area restaurants and breweries like:
Mirror Twin Brewing
Blue Stallion Brewing
Sig Luscher Frankfort
Fusion Brewery
Rock House Brewing
Pasta Garage
Azur Restaurant
Athenian Grill
Just to name a few, check LexOnTap.com for details.
Ooh La Lemon was founded in June 2018 by us, Katie and Hailey, two 12-year olds from Louisville, Kentucky.  The journey started when we they entered into the non-profit program Lemonade Day, which teaches kids how to be entrepreneurs through running a lemonade stand.  They won the title the competition title of Lemonade Day National Entrepreneur of the Year in 2017!  So they became business partners started Ooh La Lemon in July 2018 Selling the trendiest fruit and fun products.
They have all kinds of products for your house, your animals, your friend and yourself.  And now they have created Covid Care packages which are just fun little packages with a personal note meant to brighten anyone day. So proud of our Kentucky girls.
Hot Picks:
Kerri & Rich Peterson go for walks dressed like famous characters, in full Theatrical costume! They've been out as:
Shrek & Fiona
Lion & Tin Man
Alice and the Wonderland
Pirates
Santa & an Elf
Matt Nestheide, dresses up in a new costume every day while homeschooling his kids in quarantine and was featured on the Today show.  So far, he's dressed up as a mad scientist, a gym teacher, Bob Ross impersonator, a wakeboarder, Harry Potter and more as a way to make the day's lessons a little more fun.
 He has three daughters which look like they are between the ages of 3-9, the youngest has a congenital heart defect which is all the more reason to be extra safe.
Andy Beshear's daily 5 pm Briefings has its own Facebook Page for memes.
Hot TAMaLEIGH of the Week!
Everyone who is keeping things going.
---
No Show This Week! Tamara isn't feeling well! Be back next Saturday!
---
Ky Taste Buds Links from the Show
3.21.20 #TeamKentucky
The Buds took a trip to Bowling Green
Corvette Museum
Opened in 1994
Corvettes have been assembled in Bowling Green since 1981
Corvette Raffle
Buds and Duds
6 Acts of Kindness During the Coronavirus Outbreak that will Simple Restore Your Faith in Humanity From WomansDay.com
1: A woman helped and elderly couple get groceries.
2: While closed, Disneyland is donating its excess food to Second Harvest Food Bank of Orange County
3: People on the Nextdoor app have been offering to help at-risk neighbors with errands.
4: NBA players and team owners are helping employees whose jobs have been put on hold; Karl Anthony Towns donated $100,000 to the Mayo Clinic.
5: A subscriber sent her local newspaper reporters pizzas.
6: A group of kids put on a concert for an elderly woman in quarantine.
29 Positive News Moments You May Have Missed During the Coronavirus Outbreak from elle.com
1: Clearer Waters in Venice, due to the lack of motor boats and general crowds and pollution.
2: Livestreamed Concerts
3: Quarantined Dance-Alongs. In Italy, where citizens have been on lockdown since the start of last week, impromptu mass sing and dance-alongs have been taking place via balconies.
4: Volunteer Cards
5: Over the weekend, aster a social media campaign, a co-ordinated mass applause for healthcare workers broke out in several areas across Spain, including Pamplona, Madrid and Murcia – where many are on lockdown – via their windows.
6: Free Roaming for Penguins. When the Shedd Aquarium in Chicago closed as a result of the coronavirus outbreak, staff at the center decided it was a good time to the tow of their residents – Edward and Annie the penguins – the ground.
Derby Day moved, Not Cancelled from CollegeFootballTalk.nbcsports.com
Instead of the first Saturday in May, it's now going to be on Labor Daya (9/5) & the first College Football Weekend.
The Cats are scheduled to play Eastern Michigan the same day.
Funny Posts about Coronavirus:
"In 3-4 weeks, we will know everyone's true hair color!"
"Day 2 of no sports: There is a nice woman sitting on my couch. Apparently she is my wife. She is nice."
"Doctor: I'm sorry, but your coronavirus test came back positive. Patient: That can't be right. I have over 300 rolls of toilet paper!"
"A Couple of weeks in isolation with my family. What can go wrong?"
"Hey mom, when is this coronavirus going to be over? Just shutup and eat your toilet paper."
Things Coronavirus Can't Touch:
Rainbows
Sunsets & Sunrises
The Blooming flowers and trends
The Tranquility of the Kentucky Lakes
The Beauty of our Kentucky Mountains
The crashing of the ocean waves
Blue skies
Nigh Stars
Our love and cannot take our Faith
Ace Magazine's Lexington Takeout-Delivery offerings during the COVID-19 crisis
Book Madness: First 5 Lex (from the Fayette County Schools) is raising awareness about the importance of reading.
Police Department and the Fire Department
Lexington Children's Theatre
Child Care Council of Kentucky March 22-23
Follow First 5 Lex on Facebook to follow and vote.
Ways to Help During this Time
Contribute to local social service organizations (United Way, God's Pantry, Bluegrass First Families.)
Donate Blood
Reach out to your family and friends
Tip extra
Buy gift cards for those in need
Look for ways to barter
Be nice, patient and kind.
Hand Sanitizer courtesy of #TeamKentucky
Lexington Brewing Co
The Still in Danville
Wilderness Trail Distillery in Danville
and other distillers in Kentucky are using their Alcohol to produce Hand Sanitizer for FREE!
Hot TAMaLEIGH of the Week
This week it's all those people that are still making things run while everything else seems to be shutting down.  So our medical personnel who are on the front lines of this pandemic, with dwindling supplies and increased demand, our teachers who are now having to come up with totally new teaching plans, and all of our truckers, delivery personnel, and grocery store workers who show up every day, you are our Hot Tamaleighs and we thank you for your service. 
---
Ky Taste Buds Links from the Show
03.14.20 Coronavirus Mayhem – Slow Your Roll
A History of St. Patrick's Day from History.com
Coronavirus Handouts and Posters from the CDC
Positive Things to Do if You Are Quarantined
1: Spring Cleaning
2: Declutter
3: Organize
4: Read/Puzzles
5: Netflix
Notable Threats to Civilization in the Past 20 Years
2000: Y2K
2001: Anthrax
2002: SARS Virus
2005: Bird Flu
2006: Ecoli
2008: Financial Collapse
2009: Swine Flu
2012: Mayan Calendar predicts the End of the World
2013: North Korea was going to start WWIII
2014: Ebola
2015: ISIS
2016: Zika Virus
2020: Coronavirus COVID-19
Nerdwallet.com's Top Websites for Travel Deals
1: GoSeek
2: Google
3: United Vacations
4: Priceline.com
5: Airfare Watch Dog
Silver Linings:
Crude Oil Prices have fallen
They're talking about maybe moving Tax Day past April 15th.
Interest Rates are at an all-time low.
Tips to Simplify and Enhance Your Life
Declutter
Write Thank You Notes
Donate any items you haven't used in 6 months like glassware, dishes, silverware, serving dishes or kitchen utensils.
Unsubscribe to Newsletters you don't want.
Clean Out Your Junk Drawer.
Clean out expired items in your bathroom and kitchen.
Catch up on all your shows.
Kendra Scott in the Summit March 21, 12-2 pm
Kayla Weber Nord
KyTasteBuds.com
Origin Hotel & 33 Staves in The Summit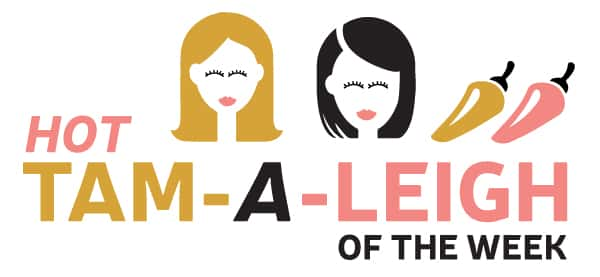 Hot TAMaLEIGH of the Week!
Kentucky Governor Andy Beshear
Lexington Mayor Linda Gorton
---
Ky Taste Buds Links from the Show
03.07.20 Spring Fever
St. Patrick's Day wiki
SEC Men's Basketball Tournament March 11 – 15 Bridgestone Arena, Nashville, TN
Interesting Facts About Spring from JustFunFacts.com
The Best Summer Annuals for Kentucky: Our Top 8 Choices from KlausingGroup.com
Dr. Seuss' Birthday
Read Across America Day
Spring Forecast Suggests Allergy Season in Louisville Could Be Severev, from WLKY.com
Neti-Pot: Can It Clear Your Nose, from MayoClinic.org
Steam Inhalerv on Amazon.com
Best Places for Spring in Kentucky from OnlyInYourState.com
Bernheim Arboretum & Research Forest, Clermont
Castle & Key Distillery, Frankfort
Ky Bourbon Trail
WTD Distillery, Danville
Pine Mountain Settlement School, Bledsoe
The Amazing Swinging Bridge, Ritner
Kentucky Native Café, Lexington
Dixie Belle Riverboat @ Shaker Village of Pleasant Hill
Buckhorn Lake State Resort Park
Lake Cumberland State Resort Park
Floating Cabins @ Green River Marina in Campbellsville
Daylight Saving Time
@KyTasteBuds Twitter Poll:  Are You a Spring Forward or a Fall Back Kind of Peep?
Spring  Forward: 68.2%
Fall Back 31.8%
Spring Fashion Trends from InStyle.com
Polka Dots
Capris
Bra with a Blazer
Big Sleeves
Optimism Month: How and Why to Celebratev from VeryWellMind.com
SEC Men's Basketball Tournament March 11 – 15 Bridgestone Arena, Nashville, TN
Boutique Tour with Myrna & Kendell (Tamara and Lee's Interns.)
Worlds Apart
James C Boutique
Shop Local Kentucky
Sugar Belle's Boutique
Pop's Resale
Apollo Pizza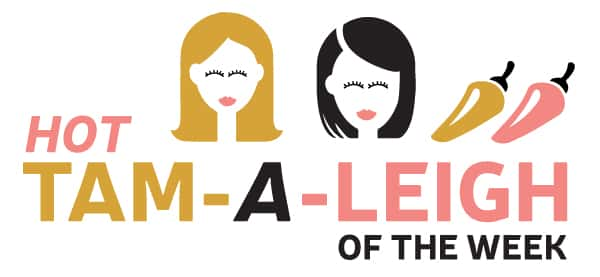 HOT TAMaLEIGH of the Week!
Ale-8-One
---
Ky Taste Buds Links from the Show
2.29.20 Leapin' for Joy!
The History of Leap Year from chiff.com
Leap Day Special Events
Man o' War Harley-Davidson Leap Day Open House
Olive Garden $5 Take Home Entrée for only $2.29
Bittersweet Martini: 2 oz of Gin, ½ oz. Sweet Vermouth, ½ oz. Grand Marnier, ¼ oz. lemon juice.
Notable Leaplings
Ann Lee founding leader of the Shakers
Motivational Speaker Tony Robbins
Rapper Ja Rule
The Campbell House from HistoricHotels.org
Rackhouse Tavern in The Campbell House
Ouita Michel nominated for the James Beard Outstanding Restauranteur Award
The Buds hit Louisville:
City Lights Prom & Formal in Louisville
Uptown Café
Express Food Services:
Door Dash
Columbia Express
Jungle Jim's International Grocery Store in Ohio
Only Two Places are Unhappier than Kentucky from BizJournals.com
6 Mental Emotional Flaming Hoops You Jump Through for your Kids from PsychCentral.com
@KyTasteBuds Twitter Question:
What Would You Jump Through Hoops for?
1: UK Men's Basketball Tickets
2: Tickets to the Final Four
3: Kentucky Bourbon
Hot Picks of the Week:
Kentucky Basketball
Crave Taco Week
Smiley Pete Publishing
Ale-8-One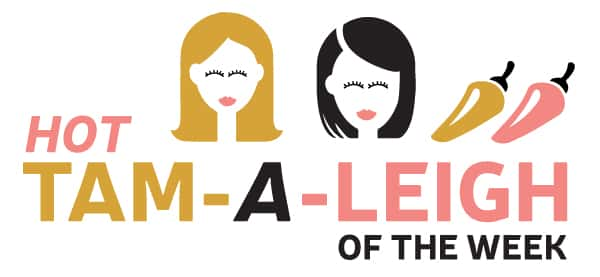 Hot TAMaLEIGH of the Week:
Brandon Caudill
---
Ky Taste Buds Links from the Show
02.22.20 Whatcha Drinking?
Drinks of Yesteryear:
Kool-Aid
Tang
Pop Rocks
Cool Whip
Instant Jell-O
Nesquik
KyTasteBuds Twitter Poll: How Do You Like Your Coffee?
Black 44.1%
With Sugar or Cream 19.1%
With Sugar AND Cream 29.4%
I like Fancy Coffees 7.4%
First African American Distiller from the LaneReport.com
Best Cocktails by State from FoodAndWine.com
Kentucky: Mint Julep also Alabama's most popular drink
Extinct Drinks
Pepsi Blue
Apple Slice7-Up Gold
Surge
Tab
Top Places in Lexington to Get a Margarita from Yelp.com
5: Papi's Mexican Restaurant & Bar on Euclid
4: Campestre in Beaumont Center
3: El Rancho Tapatio on Burt Road
2: Corto Lima Downtown
1: Agave & Rye in Fayette Mall
Mardi Gras: 5 Things You Didn't Know About Mardi Gras from SouthernLiving.com
Hurricane Cocktail from Distiller.com
Places to Eat Cajun:
Roulay Restaurant & Bar
Bourbon n' Toulouse
Broussard's Delta Kitchen Georgetown
Gumbo Ya-Ya
King Cake from Randazzokingcake.com
Throw a Dazzling Mardi Gras Party on a Budget from BargainBabe.com
Places to celebrate Mardi Gras in Lexington
Creaux Sip & Paint
The Red Mile on Fat Tuesday
Kremer's Wholesale
Sunrise Bakery
Martine's Pastries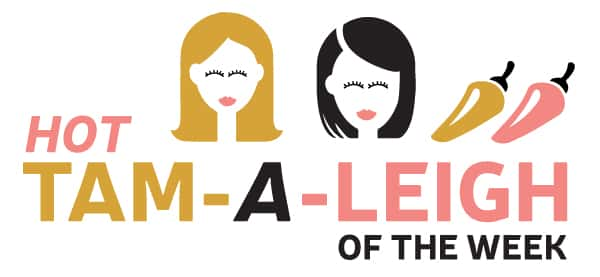 Hot TAMaLEIGH of the Week:
Belle's Cocktails
---
Ky Taste Buds Links from the Show
02.15.20              Random Acts of Kindness
Random Acts of Kindness Week from Checkiday.com
Random Acts of Kindness History from RandomActsOfKindenss.org
Ky. Taste Buds Twitter Poll:
How Kind are You? From 1-10 scale
0-2: 7.6%
3-5: 10.9%
6-8: 49.6%
9-10: 31.9%
How to Be Kinder from The PositivityBlog.com
Man with Special Needs Given New Scooter After His Was Stolen in Bullitt County from Wave3.com
Random Acts of Kindness Ideas from RandomActsofKindness.com
Send an encouraging e-mail and positive vibes.
Plant a tree, make a difference in the environment.
Reply kindly to a social media post of someone you don't do it to normally.
Start a piggy bank for a cause and start pitting your spare change in it.
Wheel out your neighbor's trash can.
Leave a positive sticky not for your friends and family.
Eat local or better yet, feed local.
Give an inspirational book to someone or recommend a podcast like Happier by Gretchen Rubin.
Kind People in Central Kentucky:
Hannah's Care Packages
Father Jim Sichko
Rob & Diane Perez Owners of Saul Good and DV8 Kitchen
What Type of Kindness do you Display?
1: There is a pay it forward type
2: Being a good listener
3: Volunteering
4: Someone who jumps in and helps solve problems
5: Those that do things for people without asking.
The 50th Friendliest States in America from BigSevenTravel.com
5: Wyoming
4: Texas
3: South Carolina
2: Tennessee
1: Minnesota
(Kentucky #19)
Who Are the Top 5 Kindest People on Earth? From atuktuk.com
5: Brazilians
4: Moroccans
3: Kiwis (New Zeland)
2: Scots
1: Thai
4 Kindest Zodiac Signs from YourTango.com
Virgo
Gemini
Leo
Pisces
National Drink Wine Day from NationalToday.com
Ky. Taste Buds Favorite Places to Drink Wine:
Cru @ The Summit
Cork and Barrel
Harkness Edwards Vineyard, Winchester
Chrisman Mill
Rising Sons, Lawrenceburg
Lover's Leap, Lawrenceburg
First Vineyard, Nicholasville (The oldest commercial winery in the US, Established in 1799.

Concerts Coming Up
Elton John, June 5th
Backstreet Boys, July 27th
Justin Beiber, August 18th
Journey, September 9
Janet Jackson @ KFC Yum! Center, August 1

Bourbon Bon Bons Melissa & Ken Robinson
---
Ky Taste Buds Links from the Show
02.08.20               Valentine's Day
The History of Valentine's Day from History.com
TwitterPoll! For the Guys, Do you Like Valentine's Day?
Yes: 15.3%
No: 45.8%
I pretend to for my lady: 17.4%
It's OK: 21.5%
Galentine's Day: Everything You Need Know about the Fake Holiday Celebrating Friendship – from USAToday.com
The Amsden in Versailles
Galentine's Day at The Amsden
Floracliff Nature Sanctuary in Lexington
Floracliff's Galentine's Day Hike
Foods to Avoid Eating on a Date and What to Order Instead from Tastymatters.com
1: Salad
2: Burger
3: Ice Cream or Chocolate Cake
4: Spicy Sauce Food
5: Soup
6: Spinach
7: Garlic & Onion
Creative Ideas for Valentine's Day:
Best Valentine's Day Gifts for 2020 from Today.com
Spanx – faux Leather
Man Crates that sell jerky or a salami bouquet – Amazon
God Intentions Necklace
Heart Shaped Waffle Maker
Long Distance Touch Bracelet
Long Sherpa Hoodie Blanket (Snuggie 2.0)
5 Real-Life Potions – Why Science Says They Work – from CafeMom.com
Essence Oil
Lure for Her
Pure Instinct
Human Euphoria
Pherone Formula W-1
 Best Love Songs: Top 100 Love Songs of All Time from TheKnot.com
12 Best Anti-Valentine's Day Movies if You're Single from Vogue.com
Gone Girl
Kill Bill
Fatal Attraction
The War of the Roses
The First Wives Club
A Streetcar Named Desire

Need Ideas for Valentine's Day? We Got You Covered – KyTasteBuds.com
KISS @ Rupp Arena
The Kentucky Castle's Valentine's Dinners (Feb 12 – 15th)
A Midsummer Night's Dream @ The Lexington Opera House (Feb 14 & 15)
Casablanca @ The Kentucky Theater (Feb 14)
KyTasteBuds Valentine's Day Chocolate Diamond Giveaway – from KISS 96.9
Lexington Comic Con (March 26-29)
L.V.Harkness Valentine's Day Sale (Feb 12 – 14)
Bluegrass Auto Repair Georgetown
---
Ky Taste Buds         Links from the Show
2.1.20             Super Bowl LIV
Super Bowl Wiki
First Game was in 1967.
The Patriots and the Steelers have won the most Super Bowls (6)
The Patriots have the most appearances (11)
"Super Bowl" was created by Lamar Hunt, Kansas City Chiefs owner in 1966 when he was quoted as talking about the Championship game between the two leagues at the time.
Super Bowl Day comes in second next to Thanksgiving Day in terms of Food consumption.
The Best Super Bowl Commercials of 2020 so Far from DigitalTrends.com
Smaht Pahk – Hyundai
Whassup Again – Budweiser/Uber
Typical American – Budweiser
The Heist – Porsche
Be the One – Microsoft
Loretta – Google
Monologue – Doritos
Where it All Began – Cheetos
Dirty Laundry – Tide
Before Alexa – Amazon
Jimmy Works it Out – Michelob Ultra
A :30 second commercial on FOX during the Super Bowl costs $5.6 million, up $400,000 from last year, according to the Hollywood Reporter
Super Bowl Halftime Show from SportingNews.com
Super Bowl Fun Facts About Super Bowl LIV from CBSSports.com
First time these teams have met in the Super Bowl
First appearance for Kansas City in 50 years.
49'ers 7th appearance.
San Francisco was in 5 Super Bowls between 1981 – 1994 and won all five of them.
If San Francisco wins they will tie the Patriots and the Steelers for the most. (6)
First Super Bowl featuring two teams with red as a primary uniform color.
How Much it Costs to Go to the Super Bowl in 2020 – It's a lot More than just your ticket – from cnbc.com
Three Former Wildcats Selected to the 2020 NFL Pro Bowl
Josh Allen – Jacksonville Jaguars
Za'Darius Smith – Green Bay Packers
Larry Warford – New Orleans Saints
Super Bowl Events in Lexington
Whiskey Bear in the Summit
Banners Sports Bar on Boston Rd
Mr. Brews Taphouse
Top Super Bowl Commercials of All Time from DigitalTrends.com
It's a Tide Ad – Tide (2018)
I'd Like to Buy the World a Coke – Coca-Cola (1971)
Up for Whatever – Budweiser (2014)
1984 – Apple (1984)
Hey Kid, Catch – Coca-Cola (1979)
Secret Society – Avocados from Mexico (2017)
Whassup – Budweiser (1999)
Crazy Legs – Levi's (2002)
Baby – E-Trade (2008)
Cindy Crawford – Pepsi (1992)
The Force – Volkswagen (2011)
Puppy Love – Budweiser (2011)
Wise Guy – Pepsi (1990)
Kentucky Players who have won the Super Bowl
Danny Trevathan – Denver Broncos 2016
Tim Masthay – Green Bay Packers 2011
Jared Lorenzen – New York Giants 2008
Marty Moore – New England Patriots 1997, 2002
Alfonzo Browning – San Francisco 49ers 1995
Marc Logan – San Francisco 49ers 1995
Joker Phillips – Washington Redskins 1998
Healthy Food Appetizers for Super Bowl
Kimberly's Game Plan (You Tube)
Sliders with no bun
Grilled Cheese made with Spaghetti Squash
Buffalo Chicken Pizza with Cauliflower Crust
Rolling Blue Farm
Saul Good
Beer Cheese Nachos
Ky Taste Buds Valentine's Day Chocolate Diamond Giveaway
---
Ky Taste Buds Links from the Show
1/25/20 80's, 90's and Today!
Sin The' Wave Pool from Reddit
Champ's Rollerdrome (formerly on Palumbo Drive)
Top 5 Video Games sold
5: Space Invaders
4: Missile Command
3: Asteroids
2: Pitfall
1: Pacman
The Greatest 80's Fashion Trends from Complex.com
The Things that Defined the Decade from Goliath.com
Timeline of the 1990s and the Last Hurrah of the 20th Century from Thoughtco.com
From timelines.ws Kentucky Timeline through History
The Rise of Social Media from OurWorldinData.org
Ky Taste Buds Valentine's Day Chocolate Diamond Giveaway
Hot TAMaLEIGH
Wiseway Supply
---
Ky Taste Buds Links from the Show
1.18.2020 January is the Worst!
CDC says Kentucky is Among the Highest in US for Flu Cases
IV Infusion Therapy from Marshall Lifestyle Medicine
Key Facts About Seasonal Flu Vaccine from the CDC
1: You should get vaccinated
2: The vaccine causes antibodies to build up about two weeks after the vaccination.
3: You should get Vaccinated before each flu season, so Early Fall, buy you can still get it later, you're just less protected.
4: It can be Life-Saving for Children.
The Four Kinds of Sick People from TheOdysseyOnline.com
1: The Zombie
2: The Survivor
3: The Complainer
4: The Barely Even Sick One
January Days
Martin Luther King, Jr. Day Monday – wiki
Winnie the Pooh Day Saturday
How to Sell Used Stuffed animals for Extra Cash – from thePennyHoarder.com
National DJ Day Monday
National Pie Day January 23rd
10 Places in Kentucky where You can get the Most Mouth Watering Pie – from OnlyInYourState.com
Upcoming Shows in the Bluegrass
Woodford Theatre
Lexington Opera House
Hot Picks of the Week
Ky Taste Buds Valentine's Day Chocolate Diamond Ring Giveaway
Fun Facts about the Harlem Globetrotters from BoysLife.org
Lexington Music Awards January 26
Hot TAMaLEIGH of the Week
Taco Tico Park Hills
---
Ky Taste Buds     Links from the Show
01.11.2020   Out with the Old, In with the New – New Things for 2020
Robot Kitties, Smart Trash Cans Get Buzz at Las Vegas' Consumer Electronics Show from St. Louis Post Dispatch
DNA Grocery Stores DNANudge from St. Louis Post Dispatch
Woven City from cnet.com
Men's Fashion Trends from Stylecaster.com
1: Cross Body Bags
2: Sheer Tops
3: Shirtless Suits
4: Vests
5: Tie-Dye
20 Things to Look Forward to in 2020 from CNN.com
Dry January Wiki
Sober Bars
New Lingo for 2020
1: ala (means Very Great)
2: dime (means it's a 10 on a scale of 1-10)
3: Pupper
4: Straight Fire (hot or trendy)
5: sip tea (mind your own business)
6: 9 (short for when a parent is watching)
7: Finsta (fake Instagram account)
8: Bop (usually means a good song or jam)
Best Dating Apps for 2020 from DigitalTrends.com
New Movies we can Look Forward to in 2020
1: James Bond – No Time to Die
2: Top Gun: Maverick
3: Wonder Woman 1984
4: Black Widow
The Power of Social Media Influencers from the LaneReport.com
Using Social Media Influencers to Grow Your Business.
1: Create a specific contract with your influencers identifying timing, deliverables, expected results, etc.
2: Use local people, bigger is not always better.
3: Build a relationship with your influencer so they can really know your product and service and love it like you do.
50 Top Food Trends for 2020v from EatThis.com
Healthier on-the-go options
Expanded Kids' menu choices
Keto Diets
CBD products
Swing Dancing with the Hepcats
Ky Taste Buds Valentine's Day Chocolate Diamond Giveaway from KISS 96.9
Diamond Rings and Pretty Things Bridal Show @ Lexington Center Saturday and Sunday
Hot TAMaLEIGH of the WEEK!
Joella's Hot Chicken
---
Ky Taste Buds Links from the Show
01/04/2020 New Year, New You! 
New Year's Resolutions Last Exactly This Long from New York Times
Best Diets Rankings for 2020 from USNews.com
3: Flexitarian Diet
2: The Dash Diet
1: Mediterranean Diet
Ky Parks Carter Caves Winter Adventure Weekend Jan 23-26
Ky Parks Jenny Wiley Park Elk Viewing Tours Jan 11 & 18
Paying Off Debt the Smart Way from Katherine M. Bennett CPA
When Should You Take Your Christmas Decorations Down?
New Year's
Tradition says 12 days after Christmas. January 5th
Declutter Your Home Calendar  from HomeStorageSolutions101.com
Game Night:
Board Games:
That's What She Said – The Party Game of Twisted Innuendos
Spontuneous – The Song Game – Sing or Shout It
What Do You Meme?
Relative Insanity Party Game About Crazy Relatives – Made & Played by Jeff Foxworthy
Cards Against Humanity
10 Ways to Have More Fun & Play More as Adults from DaringToLiveFully.com
Jigsaw Puzzles
Coloring Books for Adults
Play-Doh for Adults
Lego's
Lite Brite
Mini-Trampoline
Hot Picks of the Week:
Kentucky Dept. of Tourism 2020 Visitor Guide
Diamond Rings & Pretty Things Bridal Show Jan 11 & 12 @ Heritage Hall
Today's Woman Magazine
Hot TAMaLEIGH of the Week:
Kentucky Football Team
---
Ky Taste Buds Links from the Show
12/27/19 Happy New Year!
Ten Most Significant World Events of 2019 James Lindsay Council on Foreign Relations
10: North Korea – US Nuclear Talks Stall
9: Brexit Upends British Politics
8: US – China Trade War Continues
7: The Central American Migrant Exodus Continues
6: Tensions Flare in the Persian Gulf
5: The Amazon Burns
4: India Embraces Hindu Nationalism
3: The US Ends its Support for Syrian Kurds
2: The US House Impeaches President Donald Trump
1: Protestors Take to the Street
Kentucky's Top 2019 Reflections – US News & World Report
1: Democrat Andy Beshear wins election as Kentucky Governor
2: Governor Matt Bevin investigates Teacher Protests
3: The Kentucky Derby ends in controversy when Maximum Security is disqualified, resulting in Country House being declared the winner
4: Tie: The Bevin Administration trying to impose work requirements for some Kentuckians on Medicaid.
Coal Miners formerly employed by Blackjewel in Harlan County protest after going unpaid for weeks of work.
5: A Catholic School in northern Kentucky becomes embroiled in a controversy stemming form a high-profile encounter involving white teens, Native American marchers and a black religious sect outside the Lincoln Memorial.
6: Lt. Governor Jenean Hampton files a lawsuit challenging the firing of her top tow aides by Gov. Matt Bevin's office.
7: Kentucky lawmakers meeting in a special session vote to pass a pension bill aimed at helping regional universities and community social services agencies.
8: Republicans sweep down-ballot races in the Kentucky elections.
9: the Tennessee Valley Authority votes to close a coal-fired power plant in Western Kentucky.
Ky Taste Buds 2019 Highlights
Battle Axes in Lexington
Meeting Steve Zahn at the Railbird Festival announcement.
Meeting Jason Smith, Food Network star at A Taste of the Bluegrass
Mustard Seed
Trip to Cadiz
Becoming DJ's
How to Celebrate New Year's Eve
Dick Clark's Rockin' New Year's Eve TV spectacular
Light Up The Night – New Year's Eve party at 21c Museum – Hotel
Radio 80 @ Tipsy Cow in Lexington
5th annual New Year's Eve Midnight Masquerade Ball
Black & White New Year's Eve Bash at Grand Reserve
Eventbrite.com
5 Good Luck Foods on every Southern New Year's Table from WideOpenEats.com
1: Cornbread – Represents gold
2: Collard Greens  – must be rendered in pork fat; color of money
3: Black-Eyed Peas – make 265; more you eat, the more luck you will have
4: Hoppin' John – low-country dish of rice, spicy black-eyed peas, ham hock
5: Hog Jowl – this is the cheek; pig is a symbol of forward moving, so the more you eat, the more prosperous you will be.
Top 5 Resolutions from inc.com
5: Learn a new hobby
4: Save more and spend less
3: Lose weight
2: Exercise more
1: Diet or eat healthier
Happier blog from Gretchen Rubin
20 Things You Want to do Over the Next Year
12 Standout Trends that Ruled the Spring 2020 Runways from Harper's Bazaar
1: The Disco Collar –  think Saturday Night Fever
2: Crochet – Not your Grandmother's crochet; kind of a bohemian feel
3: Hot Pants – and by pants, I mean Short Shorts
4: Highlighter Reel – Neon
5: Bermuda shorts are making a comeback
6: Bra tops
Christmas Tree Recycling Kentucky Dept of Fish and Wildlife
Diamond Rings and Pretty Things Bridal Show
Fan the Flame Event @ Immanuel Baptist Church 1/31
Hot TAMaLEIGH of the Week:
Katherine Bennett
---
Ky Taste Buds Links from the Show
12/21/19 Making Christmas Easier
Last-Minute Gift Ideas:
Boardgames!
Fragrances and toiletries
Celebrity cookbooks and autobiographies
Slippers
Christmas Sweaters
Fitness DVD's
Selfie Sticks
Last-Minute Shopping Tips:
Instead of buying a gift, consider making something creative
Make a shopping list and pay with cash.
Keep track of your spending.
Tune into the Brunch with the Buds Podcast!
Christmas Hacks
5-in-one Package opener (Amazon.com)
If you find your wrapping paper for a box is just a little bit small, Turn the box so it's sitting at an angle on the paper and then wrap it.
Always have an XL Trash Bag handy when opening gifts.
Keep a few extra gift cards or gender-neutral gifts on hand, already wrapped for the occasion.
Ky Taste Buds Holiday Hot List
Lucky to Live in Kentucky book (Amazon.com)
Reggie Warford – Fight for His Life Documentary
Woodford Theater
Forgotten Foods at Christmas
Figgy Pudding
Oyster Stew
Mince Meat Pie
Hot TAMaLEIGH of the Week!
Operation: Secret Santa on Facebook
---
Ky Taste Buds Links from the Show
12/14/19      All in the Family
Top 25 Best TV Sitcom Families
Top 10 Families:
10- The Keatons from Family Ties
9- The Clampetts of Beverly Hillbillies
8- The Barones of Everybody Loves Raymond
7- The Bluths of Arrested Development
6- The Bunkers of All in the Family
5- The Connors of Roseanne
4- The Cleavers of Leave it to Beaver
3- The Simpsons
2- The Bundys of Married with Children
1- The Bradys of The Brady Bunch
Best Places to Raise a Family in Kentucky
10- Mount Washington
9- Shepherdsville
8- Madisonville
7- Somerset
6- Independence
5- Shelbyville
4- Bardstown
3- Elizabethtown
2- Lawrenceburg
1- Danville
Family Christmas Games from CountryLiving.com
Christmas Lights Scavenger Hunt from Gameonfamily.com
Havana Rhumba in Louisville
Mark's Feed Store in Louisville
Holiday Hot List
It's A Kentucky Thing Part 2 by Michael Crisp
Open Window Scents Kentucky Sunrise Soap
Bourbon Barrel Guitars
Hot TAMaLEIGH of the Week!
UK Children's Hospital
---
Ky Taste Buds Links from the Show
12/07/19 – The True Meaning of Christmas
Faith Hacker Senior Development Officer for Make a Wish (Ky-Oh-In)
Make a Wish Weekend of Wishes
Madara Chaffins' of Hindman's Raspberry Brie Tarts
2 pkg. Phyllo Cups
8 oz. Brie cheese cubed
¼ cup seedless raspberry jam
1 pkg. Chopped Walnuts
Put the Brie in the cups, bake for 5 min. Top with a dollop of jam and sprinkle of Walnuts.
Ky Taste Buds Holiday Hot List
Office Party Etiquette from TheSpruce.com
Hallmark Channel Holiday Movies
Top 10 Best Animated Christmas TV Specials of All-Time from Mandatory.com
Dicken's "A Christmas Carol" at Waveland
Kentucky Ballet Theater's presentation of The Nutcracker at the Opera House
Celebration of Song with the UK Opera Theater at The Square
Christmas Lights at Mustard Seed Inn in Millersburg
Hot Picks of the Week!
Trackside Restaurant in Paris
Ky Taste Buds Holiday Hot List
Lynn Bowden & The Kentucky Wildcats Football team
Hot TAMaLEIGH of the Week!
Kristin Grimaldi
---
Ky Taste Buds  Links from the Show
11/30/19 It's Christmas Time!
Black Friday Horror Stories from People Magazine
A Few of the Buds Favorite Small Businesses
Sweet Mash Lawrenceburg
Carl Meyers Lexington
L V Harkness Lexington
Violet's Gifts Lexington
Where to Get the Best Deals on Cyber Monday
1: Amazon
2: Best Buy
3: Walmart
4: Target
5: Macy's
6: Wayfair
6 Tips on how to be Polite from RealSimple.com
1: You're there to Shop! Put your Cell Phone away, especially when dealing with salespeople.
2: Follow the flow of the line and don't cut.
3: Throw your trash away
4: Always return your clothes from the changing rooms.
5: Have your coupons out by the time you reach the register.
6: Treat the salesperson like a person, not your servant.
Top Gifts of 2019 from USA Today
Top Five Christmas Songs of 2019
Kentucky Made Candies to Try!
Bourbon & Bon Bon Selections:
Old Kentucky Chocolates
Art Eatbles Louisville
Top 10 Christmas Movies of All-Time from Forbes
10: A Christmas Carol
9: Miracle on 34th Street
8: Gremlins
7: Elf
6: The Bishop's Wife
5: The Christmas Story
4: 1941
3: The Nightmare Before Christmas
2: Brazil
1: Die Hard
KISS 96.9's Ky Taste Buds Holiday Hot List Giveaway
Kentucky Taste Buds Holiday Hot List
Bat BnB
Cruise Custom Flags
Leather Sunglass Strap @ Clayton & Crume
Local Events:
Good Giving Challenge 12/3 through 12/9
My Autism Tribe
Hot TAMaLEIGH of the Week!
Bob and Sheri
---
Ky Taste Buds Links from the Show
11/23/19 A Kentucky Treasure
Home for the Holidays Dec 7th
Hot Picks of the Week!
@KyTechnado
Ky Taste Buds Holiday Hotlist
Today's Women Now Magazine
Acadia Serving Tray from AmyCateCollection
HOT TAMaLEIGH of the Week
Palmer's @ Lexington Green
---
Ky Taste Buds Links from the Show
11/16/19 Mind Over Matter
The Norwegian Secret to Enjoying a Long Winter
Lexington's Special Olympics Polar Plunge
Sheryl Woolverton, Health & Life Coach
Farmer's Almanac Extended Forecast
Kentucky Utilities
5 Ways to Reduce You Energy Bills by up to 50%
1: Weather Stripping around doors and windows.
2: If you have Gas Heat, you will not notice the difference between hiving it set at 68 versus  70, but your bill will reflect a huge savings.
3: Invest in a new Thermostat
4: Lave your Basement door open to the upstairs… Hot air rises!
5: Lower temperature on your water heater from very hot to hot or even a notch below.
How to Remove Snow & Ice from Your Car (For Gen Zer's.)
1: Turn on your Car
2: Turn on the Heat to the Warmest Setting
3: Select Defrost
4: Turn on blower full blast
5: Lightly chip at ice until it comes off
Best Foods to Eat to Stay Well this Winter from BT.com
People Magazine's Sexiest Man Alive John Legend
Hot Picks of the Week:
Ky Blood Center Big Blue Crush
Ky Taste Buds Holiday Hotlist
Drunkwood KY
Unique Horse Farm Tours
Kayla Weber Art
KISS 96.9 Holiday Kickoff Party
Hot TAMaLEIGH of the WEEK!
Windy Corner Market
---
Ky Taste Buds Links from the Show
11.09.19  Thankfulness
What do Kentuckians want for Thanksgiving? From centurylinkquote.com
How to make Pumpkin Pie or Pecan Pie
How to cook a Turkey
Thanksgiving games
Macy's Parade
Football
Great Places to Eat for Thanksgiving:
Ky State Parks
Churchill Downs
Cru Food & Wine Bar in The Summit
JW's Steakhouse @ Griffin Gate Marriott
Lockbox @ 21c Museum Hotel
Where to get help putting Thanksgiving Dinner together
La Bonne Vie – Chef Ruthie
Missy's Pies
Critchfield Meats
Sunrise Bakery
11 Unproductive Habits You Want to Quit
List of Discounts and Giveaways Offered for the Holiday
Bluegrass Hospitality Group
Bluegrass Tool & Industrial Veteran's Day Lunch
Woodford Reserve Veteran's Day Tour and Tasting
Holiday Travel Tips from Kerri Peterson @ Going Places Travel in Georgetown
Book airfare early to save the most money
Travel on the actual Holiday
If possible, only take a carry-on
Book a trip to the Caribbean, Mexico or Disney
25 Awesome Things We Take for Granted Most Days from TinyBuddha.com
Upcoming Events
Kentucky Book Fair
Holly Day Market
Hot Pick of the Week
Chrisman Mill Winery's Fuego Grill
Mellow Mushroom
Hot TAMaLEIGH
Tyrese Maxey UK Basketball
---
Ky Taste Buds Links from the Show
11/02/19      Politics
Who's running in Kentucky this year? From Ballotpedia.org
Kentucky100.com article "Don't Squawk if you Don't Vote
Iron Jawed Angels movie
President Trump at Rupp Arena Monday to support Governor Matt Bevin
Top 10 Weirdest Political Parties from TopTenz.net
KyTasteBuds.com's Podcast with The Hatfields & The McCoys
How to Cope with Politics Stress
The Lane Report's 10 Healthiest Places to Live in Kentucky
KyTasteBuds.com's Blog "Shine, Burn and Fight Your Way Through the Holidays"
The Best Political Drama TV Shows from Ranker.com
Hot Picks of the Week!
Fire & Bourbon 6-Course Dinner @ The Kentucky Derby Museum November 12th.
LV Harkness Holiday Open House November 5-7
Town Branch Park gets a $1 Million Donation from UK Coach Matthew Mitchell Ace Weekly
Hot TAMaLEIGH of the WEEK!
Lesley Wake Webster
---
Ky Taste Buds Links from the Show
10/26/19 Halloween!
10 Things You Didn't Know About Halloween from Halloween New England
10 Most Popular Halloween Costume Ideas of The Year, According to Google (Money.com)
Top 2019 Trending Halloween Costumes trending right now.
The clown from It – I better not see that at my door.
The never out of style – witch
Spiderman – I like that guy at the UK games who always wears the blue UK spiderman costume.
The dinosaur
The characters from the Descendants. Never seen it.
A clown again, but this time the nice kind. The circus clown.
Fortnite characters.
   The 80's.  We did that just recently.  Feels like yesterday.
What to Do With All the Leftover Candy? (KyTasteBuds.com)
Lexington's New Electric Scooters
Bacon Jam Festival in Louisville, November 2 (Use Promo Code KYTASTEBUDS for $5 off Tickets!
Vendors: Celtic Pig
Guy Fieri's Smokehouse
Cookie Dough Bliss
Hot TAMaLEIGHs of the Week
Ky Technado
Bourbon BonBons
---
Ky Taste Buds Links from the Show
The Real McCoy/Scam Watch 2019 10/19/19
Federal Trade Commission Scam Alerts
Common Scams & Frauds – USAGov
Top Online Scams You Need to Avoid Today
10 Steps to Take if You Suspect You're a Victim of Identity Theft
Top Scams of 2019
Romance Ruses or Sextortion
Tech Support Scams
Fake Website Scams
Fake Family Emergency Scams
Avoid Job Scams – BBB
Food
Dudley's Chef Mark Richardson
Hot Pick of the Week
Leaf-Peeping at Natural Bridge State Park
UK Children's Hospital
Hot TAMaLEIGH of the Week
Lynn Bowden – Kentucky Wildcat Wide Receiver and Quarterback on occasion
---
Ky Taste Buds Links from the Show
Get Your Spooky On! 10/12/19
Fantasy Violence Scary Silence of the Lambs
Realistic Violence Scary Michael Myers
Spooky Scary Cape Fear
Mess With Your Mind Scary Eyes Wide Shut
Haunts.com
Grim Trails, Jeffersontown, KY 
Devine's Corn Maze, Harrodsburg
Skeleton's Lair, Bowling Green
Scariest Movies of All Time
Poltergeist
Friday the 13th
Alien
9. The Birds
8. Nightmare on Elm Street
7. The Cabin in the Woods
6. Evil Dead
5. Poltergeist
4. Halloween
3. The Shining
2. The Exorcist
1. It
Events
Shamrock's in Patchen Village Lip Sync Battle
Thriller Parade
Food:
The Brownie Bae
Hot TAM a LEIGH
Women in Business Expo & Conference
---
Ky Taste Buds Links from the Show
10/5/19 It's Talk-tober!
Carl Meyers Upscale Women's Boutique
Bobbi Brown counter @ Dillard's
2019 Men's Fall Fashion Trends
5 Beard Trends for Men in 2019
Wilderness Trail Distillery Chili Cookoff
Fun Festivals in Ky in October
Eckert's Orchard in Versailles The Pumpkin Jamboree
Buffalo Daze in Stamping Ground
Country Harvest Trail Days in Paris
Oktoberfest in Harrodsburg
Artoberfest on Pike in Cynthiana
Autumnfest at Bi-Water Farm in Georgetown
Mt. Sterling Court Days
Vintage Market Days in Lexington
Halloween Festival and Thriller Parade in Lexington
Tips for Picking out the Best Pumpkin
Pick it up and tap it: It should feel sturdy. When you tap it, you should hear a hollow sound.
Check the coloring: Choose one that has consistent coloring throughout.
Look for bad spots: Try to choose a pumpkin without any scratches, bruises, or dark spots.
Apply pressure: Flip the pumpkin upside down and apply pressure with your thumbs. If it's not completely sturdy, the pumpkin isn't fresh and will rot quickly.
Set it down: Make sure it sits flat! (Unless you want your jack-o'-lantern to sit a little crooked.)
Carry it from the bottom: Don't carry it by the stem — instead, cradle it from the bottom or tote it home in a bag.
Hot TAMaLEIGH
Women in Business Expo
---
Ky Taste Buds Links from the Show
09/28/19 "Fall"ing for Lexington
Lexington voted 29th Best City to Live In (USNews.com)
Silly Laws You Can't Carry an Ice Cream Cone in your Back Pocket in Lexington!
Tex Sutton Equine Air Transportation
How Lexington Are YOU?
1: Have you caught a Summer Movie at the Kentucky Theatre?
2: Have you enjoyed food, drinks and fun at the Distillery District?
3: Have you ever yelled or screamed at a UK Game in Rupp Arena?
4: Did you graduate from a Lexington school?
5: Rode the Ferris Wheel at the Bluegrass Fair?
6: Ate at Saratoga Restaurant?
7: Attended any of Lexington's Cultural Festivals downtown?
8: Have you ever see art at the Woodland Arts Festival
9: Rooted the Cats to victory at Kroger Field?
10: Heard Tee Dee Young and his band at Tee Dee's Lounge on a Monday night?
11: Caught Candy or Beads at a Parade on Main Street?
12: Have you ever attended the Land Rover Kentucky 3-Day Event?
13: Have you ever taken your Dog to a Dog Park in Lexington?
14: Watched Fireworks at Stoll Field (Old Ky Stadium, before 1972.)
15: Have you ever placed a Bet at Keeneland?
16: Have you ever eaten Chicken from the Sav-A-Lot on Southland Drive? (formerly Slone's)
17: Have you ever shopped at Purcell's Department Store?
18: Have you ever taken in Picnic with the Pops?
19: Have you ever toured Lexington's beautiful Horse Farms?
20: Have you ever ran or walked a mile at the Arboretum?
21: Have you ever kicked off the weekend early at Thursday Night Live?
22: Have you ever seen a show at the Lexington Opera House?
23: Have you ever told everyone you know who lives out of town how great Lexington is?
0-5 You are missing out
6-12 You are just getting to know Lexington
13-19 You have a lot of Blue & White in your Wardrobe
20+ You are a True Lexington Thoroughbred!
10 Things to do in Lexington, KY this Fall (Travel Channel)
                International Museum of the Horse
Ashland, the Henry Clay Estate
Lexington Farmer's Market Saturday
Hot Picks of the Week:
Lyles BBQ
Sig Luscher Brewery
The Tipsy Cow
Chocolate Holler
Lincoln Days in Hodgenville
Hot TAMaLEIGH
Jim Freeman of Jefferson County Public Schools, who carried a child with spina bifida so she could attend a field trip.
---
Links from the Show 9/21/19
Dancing in September
September is the Most Fascinating Birth Month (Reader's Digest)
Birth Flowers and Their Meanings
Famous People Born in September
NFL
The View
The Young & The Restless
Live with Kelly and Ryan
Live PD
The Real Housewives of Dallas
The Voice
Survivor
Kelly Clarkson Show
American Horror Story
Emergence
This is Us
Grey's Anatomy
The Emmys
National Bourbon Heritage Month
Old Weller Antique Original 107 Brand Straight Wheated Bourbon
Henry McKenna Single Barrel Bourbon
George T. Stagg Straight Bourbon
Weller 12-Year Old Single Barrel Kentucky Straight Bourbon
Blanton's Original Single Barrel Kentucky Straight Bourbon
Buffalo Trace Distillery
Heaven Hill Distillery
Barton 1792 Distillery
Brown-Forman Distillery
Jim Beam Distillery
Maker's Mark Distillery
Michter's Distillery
Bourbon Trivia from the Courier-Journal
HOT PICKS OF THE WEEK!
Jeff Ruby's Steakhouse
Woodford Reserve Room at Kroger Field
Carson's Food & Drink
---
Links from the Show 9/14/19
Celebrating Eastern Kentucky
Paintsville, KY (Crystal Gayle birthplace)
Flatwoods, KY (Billy Ray Cyrus birthplace)
Ashland, KY (The Judds home)
Cordell, KY (Ricky Skaggs birthplace)
Pikeville, KY (Dwight Yoakam, Patti Loveless birthplace)
Hindman, KY (Dulcimer capital of the world)
Knott County Gingerbread Festival
Buds Picks for the Week:
Fried Bologna & Pimento Cheese Sandwich
Conado's Tacos Cincinnati (Strawberry Margarita)
Homemade Gingerbread Delight
Sutton's on Richmond Road (Lasagna)
Shakespeare and Co. (Chicken on a Stick and Sweet Potato)
Hot Buds of the Week:
Kid's Cancer Alliance Hannah Hardesty
Appalachian Artisan Center Chris Boyd
Ky BBQ Festival Ginny & Geena
Hot TamaLeigh:
Renaissance Hotel in Cincinnati
---
Links from the Show 09/07/19
It's Fall Y'all – Almost
Southern Living's Top 3 Places to Visit this Fall
It's Festival Season!
Gingerbread Festival in Hindman
Ky State BBQ Festival in Danville
Poppy Mountain Bluegrass Festival in Morehead
Kentucky Bourbon Festival in Bardstown
Country Pumpkins Fall Festival in Dry Ridge
A Maze-ing Farms, Mayfield (Corn Maze)
Marie Clare's Top Fashion Trends for Fall
Hot TamalLeigh
KK Auto Detailng
---
Links from the Show 8/31/19
Labor Day
Grand Rivers Arts & Craft Festival
Cincinnati Riverfest West Fireworks
Hot Tamaleigh Melissa Harper of Williams-Sonoma at The Summit @ Fritz Farm
---
Links from the Show 8/23/19
How Kentucky Are You?
(Provided by Kentucky for Kentucky.)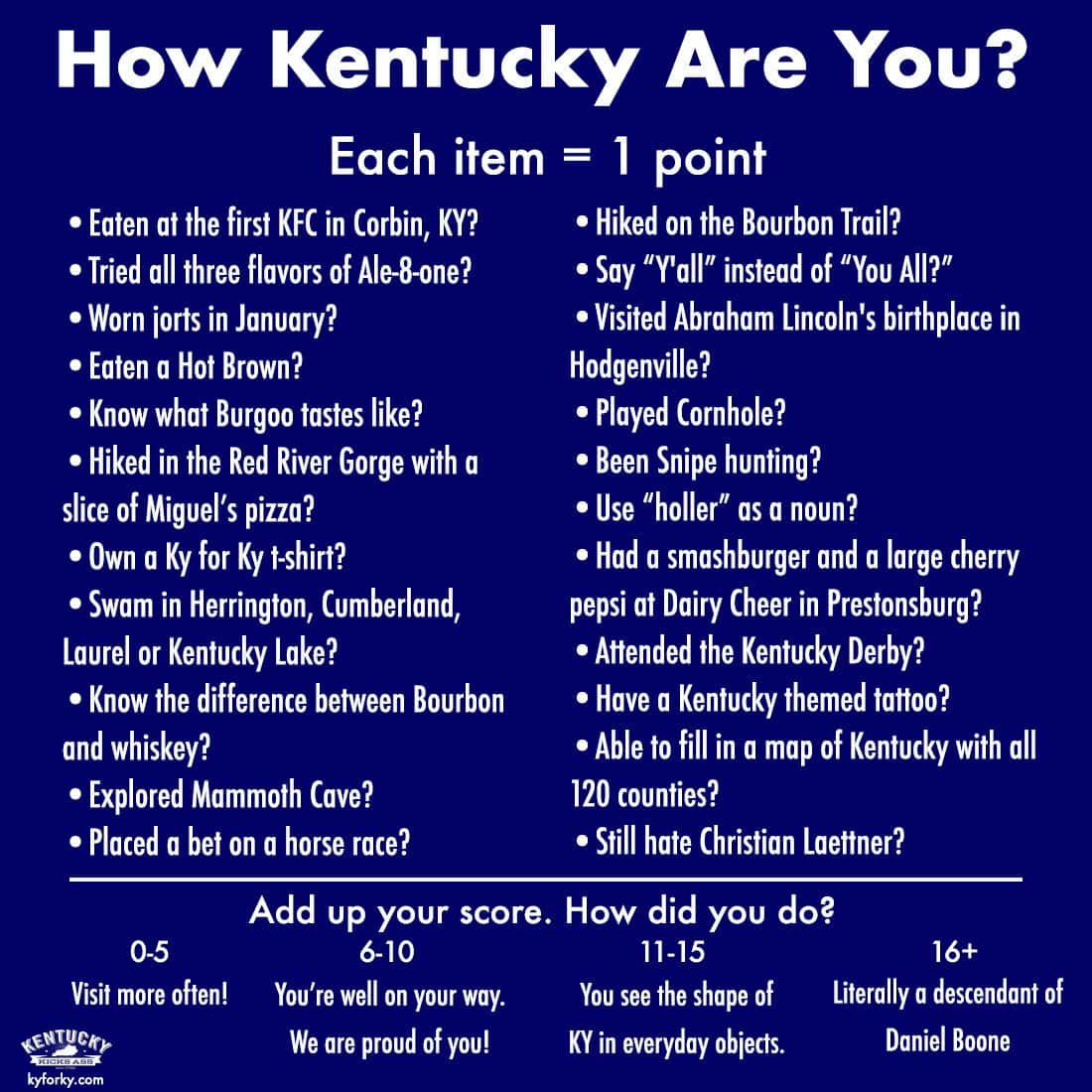 ---
Links from the Show 8/17/19
Bardstown: Bourbon Capital of the World
Bernheim Arboretum & Research Forest
Bardstown Civil War Museum & Women's Civil War Museum
Hot Tamaleigh: My Old Kentucky Home's Richard Blanton
---
Links from the Show 8/10/19
Lake Life
Buds Twitter Poll #1
Approximately, how many miles of streams and waterways are in Kentucky?
32,000 5%
58,000 17%
90,000 32%
107,000 46%
Shocking the fish at Lake Barkley Video
Buds Twitter Poll #2
What is your favorite thing to do at the lake?
Fishing 32%
Boating/Kayaking/Canoeing 23%
Jet Ski/Ski 10%
Swim/Float 35%
Top 5 Lakes to Pontoon at in Kentucky 
Kentucky State Fish (Spotted Bass)
Fabulous After 40 website
Their view on What to Wear at the Lake
Hot Tamaleigh: The Corner Coffeehouse in Hopkinsville
---
Links from the Show 8/3/19
Fears
Rappelling the Hidden River Cave
Rafting the Big Sandy River @ Russell Fork
ExplorePsychology.com's List of Phobias
HelloGiggles.com's Tips for Overcoming Gamophobia
---
Links from the Show 7/27/19
Manners
Susan sits in for Leigh, who is on Special Assignment this week!
Which cities have the best maners, accoring to Etiquette Expert Thomas Farley (Esquire Magazine)
Good Manners Quizzes!
Quizony
Manners Mentor
Magiquiz.com
Historical Etiquette
Wiki
History of Some of the Most Common Etiquette Rules
Basic Manners You Were Probably Raised With (or maybe Not.)
---
Links from the Show 7/13/19
Louisville
---
Links from the Show 7/6/19
Burger Week
Parlay Social (Peaches & CBD Cream Burger)
Crank & Boom (Midnight Munchies Burger)
Columbia Steak House (WTF – What the Flavor Burger)
Burger Shake on New Circle Road
---
Links from the Show 6/28/19
My Old Kentucky Home
My Old Kentucky Home Song Wiki
10 Facts You Didn't Know About My Old Kentucky Home
Fireworks Rules & Safety in Fayette County
Lexington's 4th of July Events
---
Links from the Show 6/22/19
Summer Amusements
Dyrevavsbakken – The World's Oldest Amusement Park Wiki
Kentucky Splash Waterpark & Campground
Kingda Ka @ Six Flags New Jersey – The Tallest Coaster in the World and Fastest in North America
Water Lantern Festival @ Jacobson Park
---
Links from the Show 6/14/19
Father's Day & Fathers
The Right Choice Mobile Detailing Car Wash
Lexington Opera House (Isaac Humphries Concert)
Ronald McDonald House Charities of the Bluegrass
Vintage Baseball Game @ Shaker Village
---
Links from the Show 6/8/19
The Simple Life
Shaker Village of Pleasant Hill
---
Links from the Show 6/1/19
Kentucky Does What?!?!?!
Kentucky.com Article on Made in Kentucky
Omega National Products in Louisville (Disco Ball Makers)
Tiffany & Co. Lexington (Classic 6-pronged Engagement Ring)
Pop-Tarts are made in Kentucky
Playing Cards made in Erlanger
Bowling Balls made in Hopkinsville
Rolling Blue Farm (Saltwater Shrimp)
Nestle Prepared Foods, Mount Sterling (Hot Pockets)
Dixie Cups Bowling Green & Lexington
Duro Bag (Bags for Fast Food Restaurants)
---
Links from the Show 5/25/19
Memorial Day Weekend – Vacations!

Going Places Travel, Georgetown
Elevated Platform Tent – Paris, KY
Treetop Roundhouse, Parker's Lake, KY
Jailer's Inn B&B, Bardstown, KY
Memorial Day Facts from the History Channel
---
Links from the Show 5/18/19
A Few of Our Favorite Things
Chateau Bourbon Bed & Breakfast
Rick's White Light Diner, Frankfort
Lake Cumberland State Resort Park
---
Links from the Show (5/11/19)
Lexington Healing Arts Academy
---
Links from the Show (5.4.19)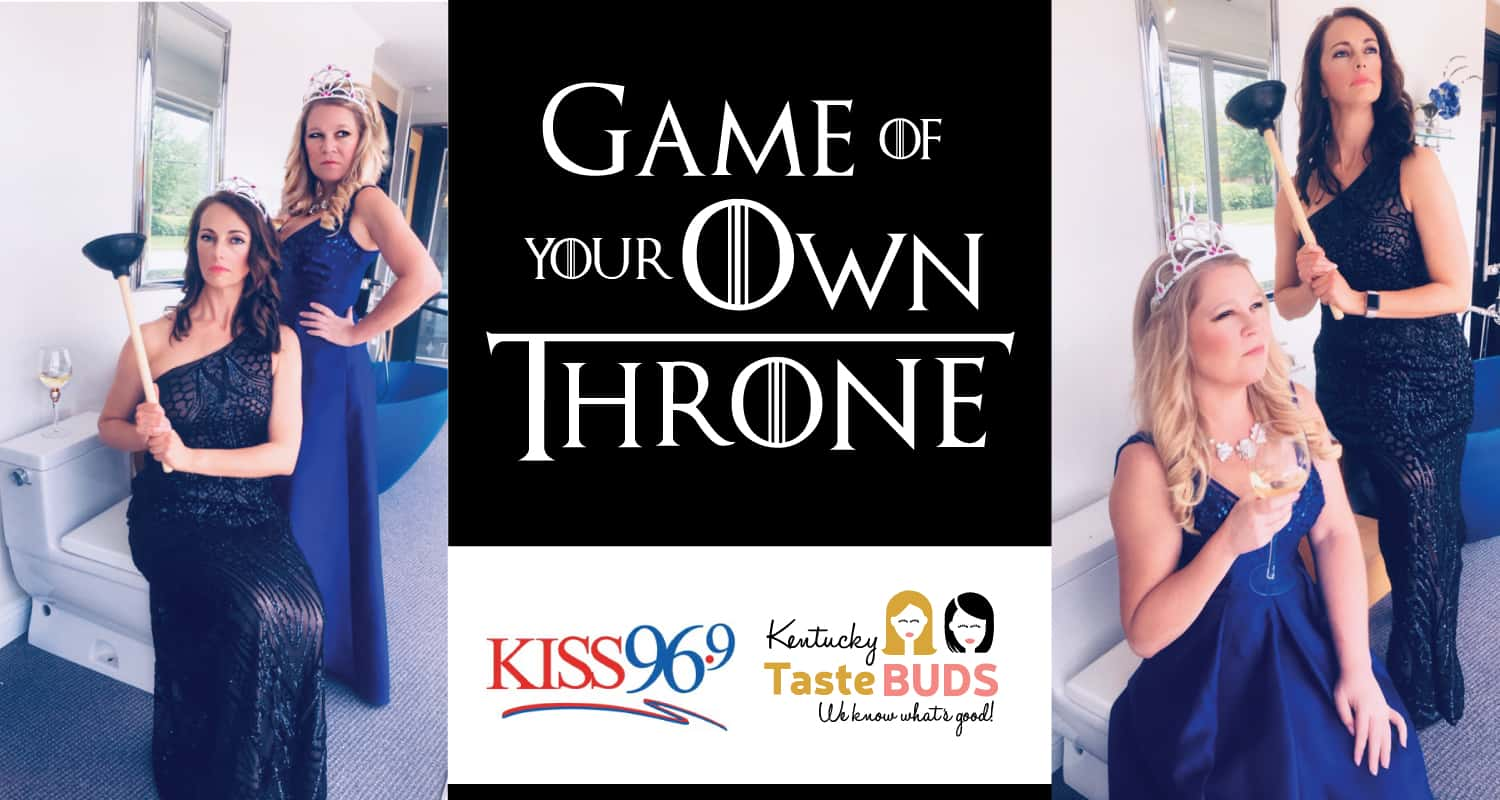 ---
Links from the Show: (4.27.19)
Here's what they talked about on this week's show! It was Kentucky Derby Themed!
The Mansion at Churchill Downs (Millionaire's Row)
Land Rover Kentucky 3-Day Event
EventCrazy.com's Kentucky Derby Festival info
Keeneland's World's Largest Derby Party
Derby Day Breakfast Feast @ Waveland
Please follow us on Facebook, Twitter, and Instagram.  You can also subscribe to our latest Newsletter at www.kytastebuds.com!  You'll find the link in the header!