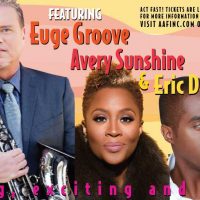 The 11th Annual Lexus Smooth Jazz Festival is coming to Lexington from Thursday, August 9th through Saturday, August 11th.
Thursday's kick-off event is in the William Stamps Farish Fund Theatre in the Lexington Public Library's main branch, on E. Main St. from 7:30 pm to 8:30 pm. Mike Wade & the Mighty Groovers will play this show.
Friday's event will take place at the Embassy Suites by Hilton, 1801 Newtown Pike, in the Coldstream Ballroom with Eric Darius as the featured artist. The program runs from 8 to 10:30 pm. Tickets are $35 in advance and $40 on the Day of the show.
The Kentucky Horse Park will again play host to the Summer Breeze Saturday All-Star Jazz Showcase, featuring saxophonist extraodinaire Euge Groove and the incomparable vocals of Avery Sunshine, who will kick-off the evening prior to Euge taking the stage.
For tickets and info call 859-255-2653 or www.AAFinc.com.