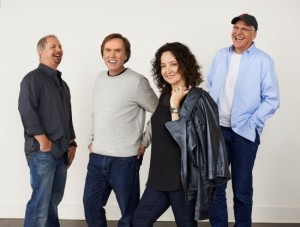 Bob Lacy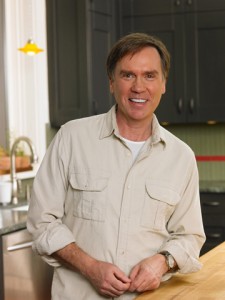 As a child growing up in Old Lyme, Conn., BOB LACEY bused tables and washed dishes at his father's restaurant and fully understood that food service was not to be his life's calling.
He took his first job as a radio newsreader at the tender age of 18, after realizing that his career fronting a New England rock band would never get him on the airwaves. He says his attraction to the industry stemmed from hanging out with deviant show biz types back stage at The Doors and The Byrds shows.
Bob attended Roger Williams University in Bristol, RI. At age 22, he launched the first-ever evening phone-in show on powerhouse AM station WBT in Charlotte, NC. At 25, he was hosting a morning drive talk show and well on his way to perfecting the intellect and humor that he still manages to muster up some mornings even today.
In the 1980s, Bob hosted Charlotte's award-winning television program PM Magazine and served as the show's national humor reporter/producer. In 1986, he received an Iris Award for Best Produced Local Television Feature in the Nation for a piece on the horrors of prom night. The award is one of many Bob has received for both his broadcasting and community service.
Bob returned to radio in 1990, handling morning drive for WBT's struggling FM counterpart, WBCY (now WLNK). In 1991, managers launched a lengthy nationwide search to find a female co-host for the show. They listened to some 65 tapes, but Bob was adamant that they not hire a giggle box to laugh at his jokes. He wanted a partner who could really add to the mix. Bob & Sheri was born and, a decade later, their raucous, real-life humor is delighting listeners in more than 60 markets around the U.S.
Bob Lacey is the father of five beautiful children. When he's not sparring on the air with Sheri, he's on the golf course or carpooling to soccer practice. But make no mistake: this suburban cowboy still remembers what it's like to jam with The Doors.
Sheri Lynch

SHERI LYNCH began her career in television, writing and producing paranoia-inducing news teases. Having tired of warning the world about the dangers lurking in dirty restaurant kitchens and sketchy daycare centers, she agreed to create a commercial for a new radio program. Then enters Bob Lacey, wearing one of his favorite preppy outfits. "Lose the red sweater," she suggested. "You don't want to look like an elf, right?" To pay her back for that disrespect, Bob invited her to be his guest on-air. That was a meeting of soul mates, and the beginning of the long, happy Bob & Sheri partnership.
Sheri has been featured in numerous trade publications and has earned many professional honors. In 2002 and 2005, Sheri received the American Women in Radio and Television's (AWRT) highest honor, the Gracie Allen Award, in recognition of her outstanding achievement in the realistic portrayal of women in media. In 2004, Sheri won the Charlotte Business Journal's "Women in Business Achievement Award." She has been named Best Local Radio Personality by Creative Loafing magazine for over ten consecutive years. Bob & Sheri has also received six nominations for the radio industry's highest honor, the Marconi Award, presented by the National Association of Broadcasters.
Sheri's best-selling first book, Hello, My Name is Mommy (St. Martins Press), is currently in its fourth printing. Her second book, Be Happy, Or I'll Scream!, was released by St. Martins Press in late February 2006. Sheri is now single, with two young daughters.
Max Sweeten

MAX has been with Bob & Sheri for more than eleven years, so if you need blackmail-worthy dirt on either of them, he's your man. All major credit cards accepted. Max grew up in Pennsylvania and Washington, DC. He got his start in radio at a religious station in Virginia at the age of 18. In addition to his duties directing Bob & Sheri, Max is active in local theater. He has won two coveted Addy awards for his work in television and radio commercials. Currently the national spokesman for a termite control service, Max also has worked alongside live cows and weed whackers. Hey, nobody said it was glamorous, but then again, neither is his day job.
Super Todd

SUPER TODD has worked both on-air and behind the scenes in stations throughout the South and Midwest. He was nominated for Billboard's Music Director of the Year in 1996 for his work at WCHZ in Augusta, GA. That same year, his station was nominated for Billboard's Alternative Station of the Year. Todd is a self-proclaimed Internet junkie, but swears he only visits educational and cultural sites. He has two gorgeous kids.