Lexington's Hottest Hounds 2017!

KISS 96-9 and Quantrell Subaru present the 5th annual Lexington's Hottest Hounds!

Gabby, Lexington's Hottest Hound 2017!

Chevy Chase Animal Clinic Gift Basket ($200 value)
Noah's Ark Wellness Exam ($50 value)
Pilleauxtalk Embroidered Pillow ($70 value)
$50 Gift card from Planet Salon
Pet Photo Shoot from Dave Redden Photography including a large Print of the dog ($125 value)
Runner Up, Livy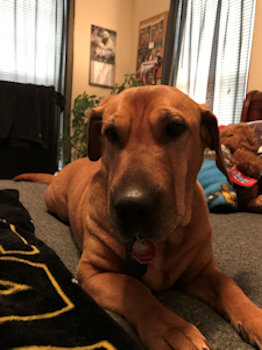 Our runner up will receive:
Bluegrass Barkery Basket $75 value
Planet Salon & Spa gift card ($50 value)
Join KISS 96-9 at Truck and Auto Extras this Saturday from 11 am to 2 pm for Gimme Shelter Saturday! Where Woodford Humane will be at Truck and Auto Extras, 1098 E. New Circle Road with adoptable dogs and cats looking for a Furrever home! Plus, we've invited our winner and all the Hottest Hounds contestants to come by for a bit then. Come meet them all!
Wednesday 6/21/17 Final Tally
35,893 Total Votes
Gabby 6550
2. Livy 5931
3. Jersey & Derby 4710
4. Tilly 2162
5. Cricket 1975
6. Bailey 1942
7. Winston – Gary Grider 1894
8. Roxie 1279
9. Mia 1038
10. Rudger Clooney 816
Here are all of our entries!

Here's Livy, Kevin Koogler's Sharpei/Basset Hound mix.
Kevin says: "Livy is the most loving dog ever. She never leaves my side and is always there."

This is Zoe, Leslie Wayman's American Piitbull Terrier.
Zoe loves long walks in the park, kissing, and ice cream!

Mozzey is Tracy Robinson's 2 year old Newfoundland.
Mozzey is our fun loving, non-drooling Newfoundland. He loves people, especially children. His hobbies include running every day through our neighbor's fields with their dog, Colby, splashing in the baby pool on hot days, visiting the farmers market, and demolishing packages delivered in the mail. His favorite foods are cornbread, turkey, and gingersnap cookies. He is the life of any party, and can't go anywhere without people stopping to admire him. He fiercely loves his family and does his best to protect them from birds that perch on the telephone wire... he's sure they're up to no good!

Here's Jonesey, Jennifer Todd's Great Pyrenes.
Jonesy is a very big dog very fuzzy very white and very very very smart dog that tries to get things over on me on a daily basis. He loves to go on walks eat and run and play.

Russell is Lacey Gilliam's Terrier Mix.
We adopted Russell in September of 2014. The photo was taken after his first time at the groomers- I asked him to smile, not expecting that he would, and he looked up with the biggest toothy smile. We still ask him to smile and from time to time he does when he is in a good mood. We weren't looking for a dog when we got him, but while walking by adoptable pets outside of PetSmart I knew I had to have him. Although he was older, I knew I wanted him forever. He's a very funny dog and instead of walking he trots like a "Tennessee Walker". He doesn't go up the stairs because he doesn't know how and he loves baths. He sleeps all day and when you walk by his bed he rolls over for a belly rub, he even rolls over for our cat but she won't have anything to do with him! We love our Russell!

Roxie is Katrina Kelly's Border Collie Aussie mix.
"Roxanne, you don't have to put on the red light, Roxanne". My dad rescued 'sweetheart' at the humane society 8 years ago. As he drove home, he thought of what to call her. Then the song "Roxanne" by The Police came on the radio. While I hope this song's lyrics doesn't describe Roxie's previous life, haha, he named her after this song. My dad only had her about a year or so before he unexpectedly passed away in 2010. I was only 24. I, his daughter, have had Roxie since, through tough times and great times.
Roxie and I did agility training for a couple of years and she loved it Now she likes to play in the backyard and protect our pet chickens. Her favorite foods are carrots, broccoli, and strangely enough seaweed snacks. She loves to fetch her squeaky ball, nose dive after her fuzzy toys, and visit granny. One of her eyes is half blue, which native Americans say means they can see both in heaven and earth.

Winston is the first of 2 entries for Gary Grider. He's a 1 year old Golden Retriever.
He has his AKC Canine Good Citizen certification as well as an Intermediate Trick Dog title. He has his own Facebook page, Winston The Golden Retriever and has quite a few followers. Winston has a nine-week-old baby sister, Mia.

Mia is Gary's other entry. She's a 9 week old Golden Retriever.
She has her own Facebook page, Mia The Golden Retriever and has quite a few followers. Mia has a one-year-old big brother, Winston.

Zipper is Buffy Greer's 7-ish year old Powderpuff Chinese Crested.
Meet Zipper! He was a scrawny, matted stray when we found him. After we got him cleaned up, groomed and to the vet, we discovered he'd been shot (the bullet is still in his chest!). He can't do tricks--not because he's not smart enough, but because I'm not smart enough to train him! He is cute and sweet and funny, though. We just did a DNA test on him and are waiting to find out his breed results in the next couple of weeks.

Fiona is Chelsea Turner's 10-month old English Bulldog.
Fiona was born with megaesophagus so she requires extra attention but that doesn't stop her from chasing balls and kayaking. She loves the water, her brothers, and food. Fiona may be small due to her illness but she is one tough girl!

Kuni is Cathy Blair's 1-year-old English Bulldog.
He is a funny and smart fellow! He won't go into his room, or get into his bed, for just any snack! It has to be cookies from Three Dog Bakery or a hamburger bun!!

Winston is Debra Moore's Plott Hound.
I found him hanging out at the school where I teach. After seeing him follow kids home day after day and come back to school, I decided to bring him home. He hugs with his paws and holds on to me. He loves his ball and his other four-legged fur brothers: 2 other dogs and 3 cats.

Stitch is Jamie Doyle's 2-year-old Korgi.
Stitch Hiddleston is named after 2 pranksters and steals only my left shoes - he lives up to his name! He's got the cutest butt with a walk to match - but most people love him for his signature move of waving aloha.

This is Bobo, Almeta Dellagnolo's 8-year old Labrador.
Bobo is Originally from the Jura region of France and immigrated to America with his family 4 years ago. Like all French, he enjoys the finer things in life, BBQs, bones and lazy sunny afternoons listening to classic rock.

Here's Trixie, J. T. Moore's 8-Month Old Border Collie Mix.
Trixie is your everyday drama queen. She thrives on making an entrance and typically resorts to throwing herself on the ground legs-up, army-crawling across the yard (only when you're watching) as though she's fighting for her life or yelping while running in circles in order to get the attention she craves. She often refuses to get out of bed in the morning leaving us to pick her up and carry her to the door, always with one eye open to watch our faces. You'll often find Trixie with both ears flipped backward, no doubt in another attempt to garner some attention from anyone.

This is Bullock, Brianna Moore's 8-Month Old Black Mouth Cur/Rottweiler Mix.
Bullock starts every day off with a perfectly executed vinyasa, enjoys showing off his toys at the most inopportune times, always double-checks that we didn't just "happen to forget" to put more food into his breakfast bowl, and insists on reversing in a cha-cha, hip-swaying fashion rather than the more typical act of just walking away, when we request that he exit a room. He is a low-maintenance kinda guy that has stolen our hearts with his goofiness and not-so-subtle attention seeking behaviors.

Lily is Courtney Cecil's 9-year old Beagle.
Lilly is a 9-year-old talented Beagle! She knows lots of tricks and loves to show them off. She's a typical hound that loves food and treats. Her favorite activities are learning new tricks, going on walks, and of course, eating treats! Lilly lives with her sister Daisy who is a Golden Retriever. They share a Facebook page together that is called "Lilly And Daisy The Dogs". Lilly is an all-around amazing dog!

Major is Matthew Smith's Rottweiler/Husky Mix.
"Major" is a Rotsky Rottweiler-Husky mix. We got him 2 days after our Rottweiler died on Valentine's Day. My 3 children enjoy him and all the things he has chewed on. Thank you for taking the time to read about our dog "Major"

Scar is Rachel Hampson's German Shepherd Mix.
My daughter was having a tough time after her father and I divorced. Grades were dropping, she rarely came out of her room, friends stop inviting her over due to her depression and anger. We went to the Humane Society just to look, we already have a cat and an elderly dog that keep me busy. Well, there he was, a stressed out 3month old puppy who barely had any fur due to mites. He had a scar on his snout, hence his name now, but he ended up being the one to heal my daughter's scars, got her smiling again and out of the house
Thank you Scar!


Khaleesi is Caroline Morrow's 11-Week old Golden Retriever.
Khaleesi loves to run and play tag. She also likes to play in the Waterhouse and eat hamburgers and peanut butter. She is loved by everyone she meets!


Mack is Grady Brezeale's 10-year old Mixed Breed dog.
Mack is most loyal and best-behaved dog I have ever had. Loves hanging out with my son, his BFF.

Leo is Janice Frederick's Shepherd/Lab Mix.
Leo was given to me from my husband as a Christmas gift in December 2016. His name is Leo as he was born the first week of August. He loves to play and chew things and loves to give kisses. He is hyper but sweet. Wearing shirts actually calm him down. He is a rescue from the human society. He is definitely a mama's boy and has me wrapped around his paw.

Wheatley is Lauren Stewart's 11-month old Corgi.
Wheatley is a spunky little bread loaf with short little stubs for legs but enough floof in his booty to make up for what he lacks in height. He loves walkies and bacon and belly scritchens. Anything that moves, rather on 4 legs or 2 becomes his new best friend.


CeeCee is Millie Vance's "Chiweenie".
CeeCee is a Christmas gift I gave myself. The neighbors down the street had the mother and forgot to pay attention and oops....puppies. Not sure where the markings came from (she has Jack Russell markings) but I saw both parents and neither of them had anything like hers. Oh and by the way, her American Native name is "Little Big Ears"

Mylo is Russ & Ronn Schneider's Malti-Poo.
Mylo is a 14-week old male-poo...He has found his growl and bark and loves to play with his ball.

Jersey & Derby are back again! These are Anastassia Zikkos' Elk Hound Mix and Hound Mix.
The duo is back to try again at the title! Since last year Derby has become certified a Canine Good Citizen. We are on the way to becoming a therapy dog where she can spread her kisses and happiness to brighten people's day. Jersey is the supportive big sister teaching her the way!

Here's CiCi, Karre Kelley's Torkshire Terrier.
CiCi is a very loving, friendly and playful. She loves to play with any other animal she sees. She tries to play with our neighbor's free range chickens and doesn't understand why they run from her. LOL, I don't think she has an aggressive bone in her sweet little body. She also loves to watch TV, especially if other dogs or animals are on the screen. She is so cute, she will go up to the TV and stand on her hind legs and bounce back and forth watching it. Sometimes she goes to the end of the TV to try and find the animals that she thinks has run off the screen. She loves for someone to throw her toys and run after them or to sit in front of the door and sunbathe. She just has the sweetest and most gentle personality of any small dog that I have ever met. She is extremely laid back, very rarely barks or makes a sound and she has the sweetest, softest little snore. She literally lives just to love you.... and her boyfriend Maxx of course (my parents Yorkie).

Maxx is Karre Kelley's Silkie Terrier.
Maxx is our little protector. He's really not aggressive he just wants other dogs to think that he is. When push comes to shove, he'll run from them. He is very vocal like most small dogs and he is very loyal. His favorite things to do are chew on his "sticks" (rawhide), chase laser lights, sleep, watch outside and take car rides. He is extremely smart and has learned how to respond to several questions by shaking his head "no" or nodding "yes". He has a girlfriend (CiCi) that he lets wear the pants in the relationship. He is so easy and passive with her it's too sweet to handle. No other dog gets that treatment.

Bailey is Sam Vertrees' 5-month old Corgi
Bailey is a spunky and height challenged pup. Her friendly attitude gains her friends everywhere she goes. She loves anyone she meets and usually tries to reward them with a lot of sloppy kisses. She likes to go on walks, but she usually has to be carried a few times for her stumpy legs to rest. Her other favorite activities include being chased, eating rabbit poop, and alerting us when the doorbell rings on tv.


Tillie is Chastity Daniels' Shihtzu.
Tilly is a spunky, silly, loving on her terms only, sweet gal!

Kratos is Jeremy Edwards' Great Pyrenees.
This is Kratos he's 5 years old. A Great Pyrenees, he is very curious and loves to run and bark.

Otis is Sabrina Butcher's Dorkie Breed pup.
Otis is a very lovable little dog. He is very spoiled and has to sleep in the big bed with his human family. Fetch is his favorite game but doesn't give his ball up easily. He's often seen wearing doll clothes when our granddaughter Josie comes to visit. As shown in his picture, he loves to pose for Chasity his groomer. We love our little guy and think he is the cutest dog ever.

Bruno is Gordon Adkins' Toy Poodle/Papillon Mix
Bruno the demon dog but really he's his momma's cuddle muffin.

Snickle Fritz Magee is Jacqulyn Bowman's Pomeranian.
SnickleFritz, affectionately known as "Fritz", is an 11yr old Pomeranian. He hales from New Jersey, and his personality attests to it. His tenacity, matched with his lovable nature makes him one of a kind, and dare I say, the hottest hound. His hobbies include swinging at the park, talking to Siri, and riding in the car. He is a role model for adults and kids alike, by promoting safety first. He always rides in a booster seat with his auto safety harness securely fastened. Pick this guy as the hottest hound, and you will have the best in show.

Ripley is Kelsey Cummins' Schnauzer-Poodle mix.
Ripley is a very energetic dog who enjoys playing with stuffed squeaky toys, eating Greenies, naps walks and chasing wildlife in the backyard. She is a great guard dog but she gets nervous easily and is constantly following us like a duckling following its mama.

Brisbane is Skye Biles' Blue Heeler/Austrailian Shepherd mix.
Brisbane is a sweet dog loves to have her belly rubbed and can smile when she wants to.

Molly is Melanie Faircloth's Malshi.
Molly is the sweetest girl! She loves going on bunny hunts, car rides, her zebra and loves to cuddle! Her main goal is showing me how much she loves me every single day!

Boomer is Tony Bonner Sr.'s Lab mix.
Boomer was in a shelter that euthanizes dogs in the first year of his life. Since everyone loved Boomer, he was sent to Fayette County Humane Society where I found him. I visited several times trying to decide if I even wanted a dog when someone else adopted him to keep their existing dog company. I went back several days later and was told Boomer was back! So I had to adopt him...it was meant to be.

Bob is Jan Heinz' Austrailian Shepherd.
Bob likes to ride in the car. Occasionally, given the opportunity, he will run off and visit the neighbors for donuts. Bob loves everyone, very social. He is a Daddy and a Grand Daddy. His favorite hobby is chasing cats - only if they run. Exploring new places is a special pleasure.

Gabby is Georgena Conn's English Bulldog
Gabby is a dog we fostered for the Human Society and fell in love with her. She was used for breeding and have puppies and then when she couldn't they dropped her off at the shelter.
She loves kids and if you will pet her she will lay there all day and take it.
When I let her outside she will look around for the neighbors and if they are out she runs over thinking, of course, that is why they are outside, to pet her.


Copper is Durinda Abercrombie's Collie.
Copper is a one-year-old Collie and he is our family pet! He is an awesome dog!

Sam is Donna Skaggs' Terrier Mix.
Sam (Samantha) is an 8 yr. old, Female, Terrier Mix, rescued from a parking lot. Sam was a puppy with many anxiety issues. With a good home, love, and affection she became part of the family. She enjoys playing with her little brother Toby and her favorite thing to do is hang out on the couch guarding the house.

Medic is Jessica Wright's Doberman.
Medic has been training since birth as my service dog. He is my best friend, my companion, my lifeline.

Hamlet is Courtney Legget's Pug.
Hamlet is a 3-year-old pug. His hobbies include snuggles and eating all his food and anything his big brother leaves behind in his bowl. He also enjoys sun bathing and playing with his friend the duck.

Enzo is Katie Skaggs' German Shepherd.
Enzo is a two-year-old German Shepherd that was born on Christmas Day! Weighing in at 108 pounds he might look and sound scary to some but he is the biggest AND sweetest boy.

Rosie is Katie Skaggs' Golden Retriever.
Rosie is a three-year-old sassy golden girl who enjoys playing with her best bud Enzo, eating whatever she can get her paws on and cuddling! She never meets a stranger and is the sweetest gal we know.

Pigby is Aaron Ash's Lab Mix.
Her name is Pigby because she snorts and snuffles like a pig. When she's not out carrying sticks and chasing tennis balls she loves to sleep.

Willowbear is Teresa Moore's Austrailian Shepherd.
Willowbear was born on Easter Sunday. Her personality is just beginning to come through, but she is so sweet. Her absolute cuteness allows her to get away with murder!

Lexi is Jennifer Bricking's Olde English Bulldog
Lexi likes taking walks, wiggling and playing with her bones. She loves being loved on and wrestling with her brother Snoopy.

Here's Cricket, Melissa Sedlaczek's 10-year-old Pomeranian.
Cricket is a 10-year-old puppy mill survivor. She just found her forever home this year. She is a good girl and is excited to live life to the fullest now. She hopes that includes walking the red carpet for a chance to be Lexington's Hottest Hound.

Nyra is Tabitha Bayne's English Bull Terrier.
The best companion there is. She is the biggest snuggle bug and always wears a smile. A day isn't complete without clowning around or plenty of butt scratches. Courageous and full of fire; she always works to protect her family from harm. Adventures together are the best. The most love and comfort a person could ever ask for.
Sam is Donna Skaggs' Terrier Mix.
Sam (Samantha) is an 8 yr. old, Female, Terrier Mix, rescued from a parking lot. Sam was a puppy with many anxiety issues. With a good home, love, and affection she became part of the family. She enjoys playing with her little brother Toby and her favorite thing to do is hang out on the couch guarding the house.

Jade is Misty Misinec's Stafforshire Terrier.
Jade is a beautiful girl. Territorial at times but sweet too. Listens very well. Loves to fetch and eat Oreos on her birthday! She is a little overweight but who isn't? She thinks she is human and is definitely a part of our family!

Redger Clooney is Kelly Eggleton's 13-year-old Hound Mix.
Rudger Clooney is a 13-year-old hound mix. He has over 50 Facebook friends! He's won multiple costume contests and was even crowned Mardi Paw King! He lost his human in January and now lives with me, his sugar momma. He's a sweet boy and steals hearts by the dozen with his sad hound eyes. He's not miserable in his costume, he looks the same without it. Attached are pics of his winning performance as American Pharoah.

Here's Layla, Melissa Vonderbrink's 5-month-old Pup.
Beautiful she's very playful loves to play ball very watchful and smart.